Chemical Registration Using CDD Vault
A simple and versatile chemical registration system is essential
Chemical registration is the most critical part of your discovery engine. If you are working without a chemical registration system (or avoiding your unwieldy legacy solution), you may be missing the full value of your data – wasting time and money. CDD Vault harmonizes your compound collection and ties it to your screening data, allowing you to track screening results across compounds and families of compounds.
Chemical registration in CDD Vault makes all this and more possible:
Detect and avoid screening duplicate compounds
Easily track compound lots and batches
Be aware of how compounds interact from other assays
Comprehensive sub-structure searching (through canonicalization)
Unique accession numbers automatically created for reliable data linking
Compliance ensured by such an effortless interface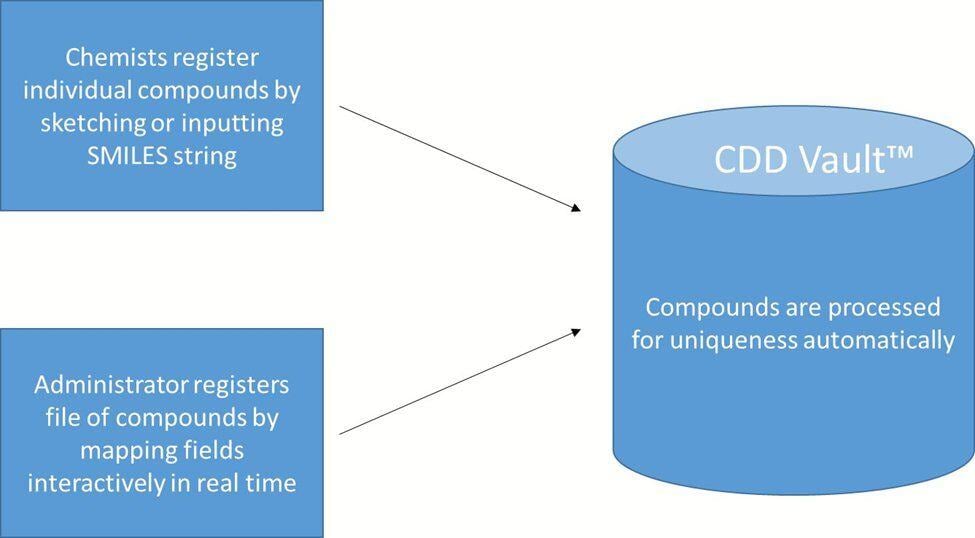 If working with a legacy registration system has become overly burdensome or you are having difficulty approaching this new problem yourself, CDD Vault can be extermely valuable. CDD Vault provides chemical registration that is simple enough to figure out the first time, and versatile enough to handle anything you can throw at it. And because it is built with a modern architecture in a hosted-cloud environment, you'll have access to all your compound data at any time from an easy to use web interface.
CDD Vault makes chemical registration easy:
Flexible input formats (no SD file required, SMILES strings are OK)
Interactive registration allows real time mapping of fields rather than manual batch processes prone to error
Business rules for registration are automatically applied (different sources and formats are harmonized)
Simple enough for all your scientists to register their own compounds within their existing workflows
For every new compound entered, CDD Vault automatically calculates the physical properties, strips away any salts or solvents of crystallization, and creates a new unique ID or links to existing record (batch and lot information are automatically tracked). By registering new compounds, you make them available throughout CDD Vault for mining and analysis of screening results, for Structure Activity Relationship (SAR) studies, and for sharing with collaborators.
Learn more about the benefits of CDD Vault and get your free trial: