High Throughput Screening Using CDD Vault
Your Own Private Hosted Database of Screening Data for Analysis
Managing high throughput screening data can be a challenge: Different sources, formats, and locations. You need a data management and analysis system that aggregates and harmonizes all of your HTS data in one convenient location. CDD Vault does all this within a private hosted cloud so you can identify and characterize your hits from an easy to use web interface.
As a full-featured screening platform, CDD Vault helps make you more productive:
Always easy to locate your HTS data (current and historical screens)
Tracks assays over many cycles through consistent protocol and naming conventions
Built-in security and archiving make data loss a thing of the past
Automatic calculation of assay statistics and IC50 values saves you time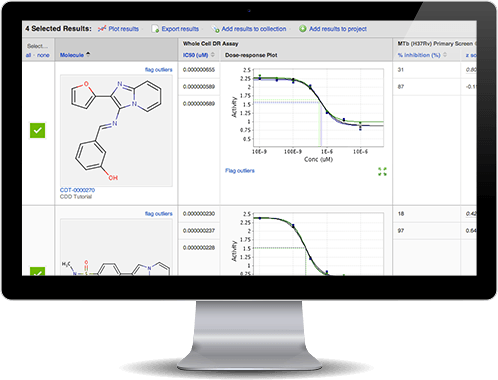 And by using a modern hosted-cloud architecture and interface, CDD Vault is easier to use:
Access your HTS data within the privately hosted cloud from anywhere
An intuitive interface and help wizards guide even non-experts through upload and analysis
Hit identification is automatic so you can focus on the data you are most interested in
Interactive real-time upload and point and click mapping (instead of blind batch import failures)
You don't have to be a database expert to use CDD Vault. CDD Vault's easy to use data import tools don't require you to be concerned about anything other than your HTS data; there are no complicated schemas to deal with. You can easily migrate your legacy screening data from primitive flat file storage and ensure consistent assay nomenclature.
CDD Vault is a modern hosted informatics platform that resides on secure private servers. There is no hardware or software maintenance to purchase, configure, manage, or upgrade. We do the heavy lifting, so you stay focused on the science and your results.
As a result, CDD Vault is a cost effective solution that is perfect for academic groups, nonprofits, and small companies. Modern hosted-cloud architecture provides a great cost savings, but also makes it possible to build more intuitive interfaces, superior to legacy systems.
And when your HTS work involves others, CDD Vault makes collaboration easy with built-in communication and sharing capabilities. You can share the exact slice of your HTS data with only the partners you specify.
Learn more about this powerful high throughput screening system here.