Using CDD Vault to Manage Redbrick Molecular Ltd. Catalogues: Case Study
Andy Hogben, named by Forbes in Europe's 2018 30 under 30 for Science and Healthcare, published a case study outlining how Redbrick uses CDD Vault to manage their chemical libraries used early in the drug discovery process. Redbrick Molecular is a pioneering spin-out shared by the University of Sheffield and the University of Leeds. It was set up to have a commercial impact in drug discovery from chemistry developed at universities.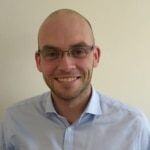 Redbrick Molecular has a rapidly growing library of novel building block and chemical scaffolds for medicinal chemistry from a variety of sources. They need to track compounds, properties, availability, and customer feedback in a secure database system that is easy for users. Andy Hogben tells us about their challenges and how they made use of CDD Vault to capture a complex catalog in a simple way.
[Download the full article on the right panel]