Webinar: Wrangling all your Diverse Drug Discovery Assay Data
A collaborative webinar with Dr. Dale Cameron (viDA Therapeutics)
Have you wondered about the costs versus the benefits of a shared data resource for your drug discovery project team? What are the benefits of a hosted solution over sharing Excel files or even traditional databases for screening biologists, medicinal chemists, and other key collaborators? How does it work out in the real world?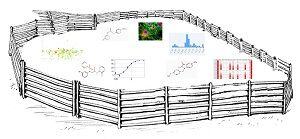 We'll showcase how a screening biologist can streamline her workflows, how a chemist can analyze data, and how all can easily do advanced analyses and pattern recognition in the new CDD Vault Vision module.
Please register here to find out how viDA Therapeutics saved time and money by leaving behind the "large amount of labor it took" to maintain multiple tools. How did their project team go from starting out using just flat files to organized and efficient collaboration with CDD Vault? Why did they buy, and how did it meet their expectations?
Thank You to Our Amazing Sponsors!