Cheminformatics using CDD Vault
Cheminformatics can be easy with the right tools
Successful cheminformatics starts with a great database. It keeps all your structural information and representative data at your fingertips. But more importantly, a cheminformatics system like CDD Vault includes all the tools necessary for an easy to use, end-to-end solution: chemical registration, chemical drawing, searching, visualization, SAR, inventory, ELN, and other analyses.
CDD Vault provides a complete drug discovery informatics system:
Easily mine for activity, compound similarity, and selectivity
Identify important structural elements thru Structure Activity Relationship (SAR) analysis
Focus your acquisition & screening on the optimal unique set of compounds
Assess drug suitability with Lipinski rules, Oprea lead-like metrics, and other custom descriptors
Save time and money by considering over two million public compounds and their activities
Learn more about the benefits of CDD Vault.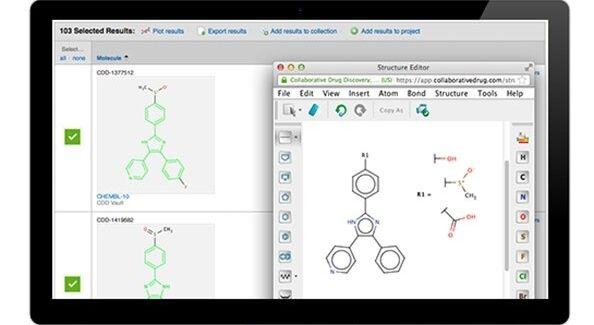 You don't have to be a database expert to use CDD Vault. Built with modern innovations, help wizards, and on-screen guidance, CDD Vault is intuitive to use, even for first time or infrequent users. It is a hosted-cloud application with a friendly web interface so there is no hardware or software to purchase, configure, maintain or upgrade. We do the heavy lifting, so you stay focused on the science and your results.